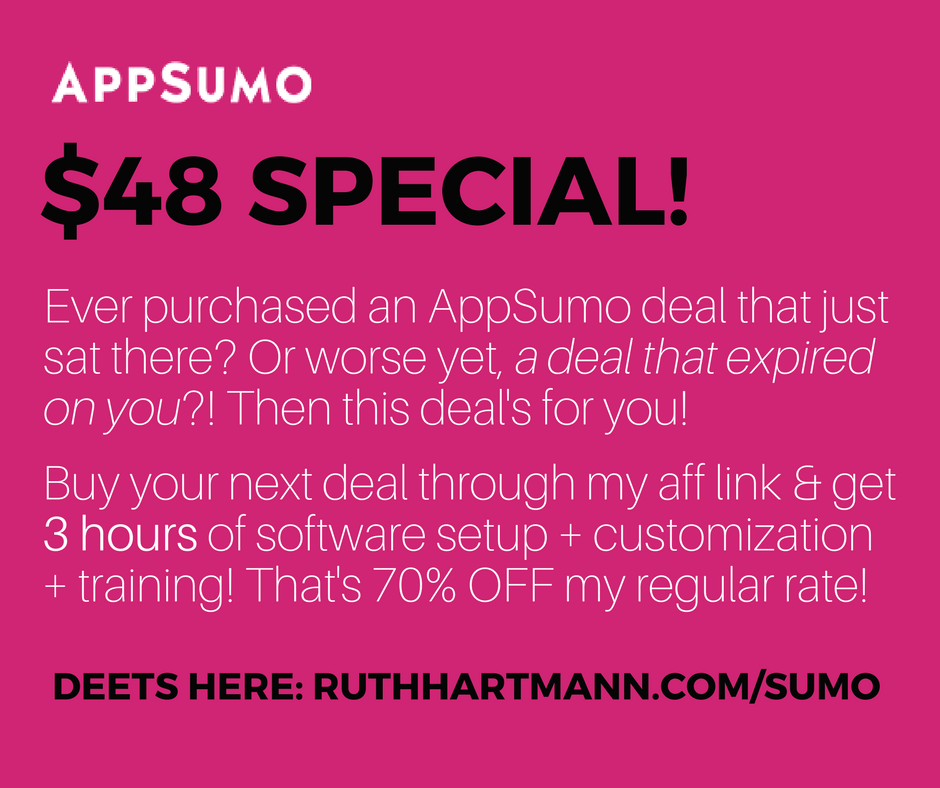 Buy your next AppSumo deal through my affiliate link between now and November 24, 2017 11:59pm EST and get 3 hours of software setup + customization + training. Read my FAQs below for the full details.
Frequently Asked Questions
What is your AppSumo affiliate link?
Why are you offering this deal?
To make some quick cash to be able to buy my own AppSumo Black Friday deals! I've got my eyes set on the KingSumo developer deal. Having this tool in my pocket will save my giveaway campaign clients a bundle! Okay, fine, I also want to get Brain.fm, Invanto and maybe others.
To create more work for myself + help fellow time-crunched entrepreneurs. People buy these deals then don't have the time to set them up and use them. Win-win for everyone!
Can I set up the basics of my account and use the 3 hours to do more advanced stuff? Like actually set up a giveaway campaign on KingSumo?
Yes. This deal is THAT good! If you want to use my time to work on a giveaway campaign you can. HOWEVER, I will only be doing tech implementation, NOT Strategy! This means you will need to have all the components and I will be doing the setup + integrations. three hours will most likely not be enough time to finish the campaign since you might not have all the proper pieces in place. I will stop the clock at the 3 hour mark. If you want me to finish the campaign or do non-KingSumo related work (like a landing page), you'll need to hire me at my regular hourly or package rates.
Do you have experience with all the AppSumo software deals?
Nope! I'm super awesome at tech, but not superwoman! 
 If the software is new to me, I will put in one (1) non-billable hour of my time to learn it. After that hour, I'll start the billable timer. We'll get as much done as possible for a tech wizard who is still learning the software.
What if I buy a deal that doesn't require any setup? Like Brain.fm.
If I buy DesignBold will you design graphics for me?
Hmmm. Yes, but we'll do it together via a real-time Zoom work party.
You'll need to provide a brand guide, logo, and copy. Together we can choose the style for your graphics.
We'll meet via Zoom to review the gaps in your content calendar and/or to brainstorm one up if you don't have one.
Then we'll both start creating images per content calendar requirements. I create graphics the fastest when I can get quick feedback from others hence the collaborative part. Think of it as setting aside time to batch-create your graphics!
How many of these deals can I buy?
One, dear Sumo-ling, only one. And there's only 15 available total. Enough to get me my KingSumo deal in credits.
How does scheduling work?
You'll have 45 days to schedule with me from the date of your AppSumo purchase. That way you can still get the refund from AppSumo if you discover the software won't work for you. Sorry, no refunds from me.
I'll email you on November 27 to get the info I need to study up on your software and get you scheduled. Depending on what you purchase we'll either do one 3-hr intensive or break it up into 3 hour-long sessions.
You'll need to be "on call" when I'm setting up your software in case questions come up.
I'll stop the clock at the 2.5 hour mark, so we can meet by Zoom for the last 30 minutes to give you a walk-through of what I've done and how the software works.
If more time is needed to finish your setup, you can book an additional 2 hour block for $75.
What is your refund policy?
AppSumo offers a 60-day money back guarantee. I'm not offering refunds since I can't get my time back. It's still an awesome deal to get to find out before the 60-day refunds window if the software will work for you.
Get the Deal
Yes! I want to get a quick start on my AppSumo software!